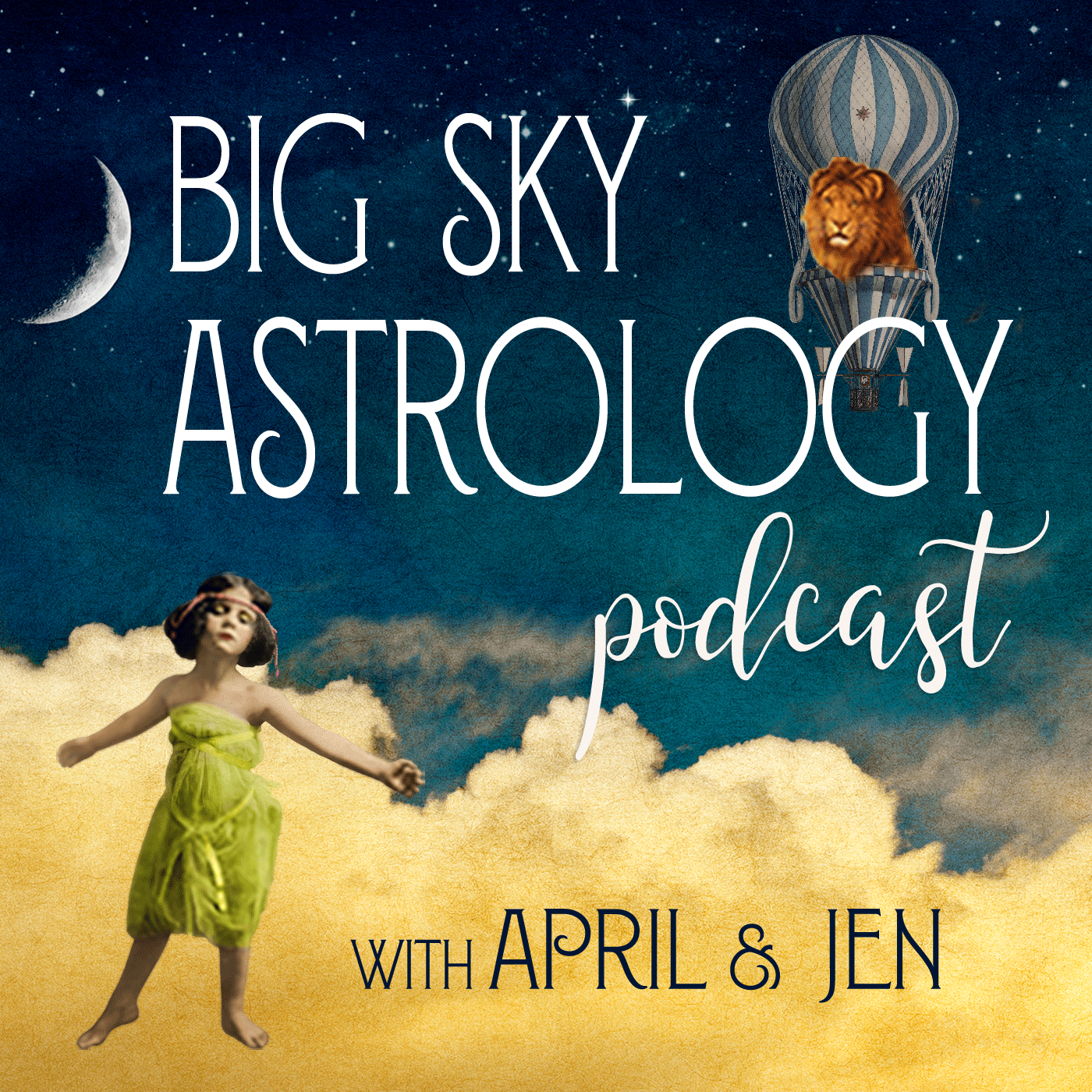 Join April and Jen in pastoral dances as Mars darts into free and easy Gemini! The Sun square the Lunar Nodes awakens the mid-point between eclipse seasons, and a Sagittarius Last Quarter Moon urges us to let go of the past and leap into forward motion. Also, Mercury encourages hopeful narratives, and Venus and Uranus invite us to toot our own horns! Plus: astrological ABC's, a shout-out to Portugal and Latvia, and don't get carried away with all those green signal lights!
We're at the mid-point between eclipse seasons! Order a personalized Followed by a Moonshadow eclipse report. (Available only from the BSA site!)
The equinox is coming up – become a podpal and support the show!
Wondering what this year's big transits mean for you? Book a reading with April!
Sign up for April's mailing list for updates, a free monthly lunar workbook, AND an email tutorial on the Lunar Phases!
To read April & Jen's essays, or to join the podcast conversation and leave a comment, go to www.BigSkyAstroPod.com.
Read more about this week's astrology at the Big Sky Astrology website!
Follow Big Sky Astrology on IG, Twitter, and FB @BigSkyAstrology
Read a full transcript of this episode.
Episode links:
00:30 – Spring approacheth! If you'd like to receive the upcoming exclusive equinox episode, become a podpal by supporting the show with a contribution of $5 or more. Woot! Thank you!
.
02:09 - Mercury trines the North Node for the third and final time (March 2) on the Sabian symbol for 16 Aquarius, "A big businessman at his desk." The North Node is on 16 Gemini, "A woman suffragist orating." Remember to expose yourself to positive, healthy messaging! Perhaps the businessman is in support of the woman campaigning for more rights? The previous trines were Jan. 20 and Feb. 9 – do you see a connection between the three? (Listen back to Episode 65, Mars, Uranus, and Revisiting the US Pluto Return & Episode 68, A Pointy, Peaky, Aquarius New Moon for clues!)
.
05:20 – Celebrate what makes you unique: Lovely Venus sextiles sparkly Uranus (March 3) on the Sabian symbol for 8 Pisces, "A girl blowing a bugle." Uranus is on the symbol for 8 Taurus, "A sleigh without snow." This aspect could bring unexpected opportunities that lead to romance or friendship, or possibly financial help.
.
07:33 – Mars, the planet of how we move through the world, zips into Gemini on March 3! In Gemini, Mars tends not to spend a lot of time in any one place and can be very restless. Mars can be sharp-tongued when upset in this sign, so don't say things that you can't take back. #SlowYourRoll
.
10:52 – Here's a beginner tip for those wanting to get more serious about learning astrology: Learn the astro-ABCs! Memorize the order of the signs, and their rulers, starting with Aries in the first house. Here's a handy cheatsheet to get you started!
.
12:21 – "Hey, let's do ALL of it!" Mercury meets up with Jupiter at 17.32 Aquarius for the third and final time (March 4), which can signify way too many big ideas for the future! The previous conjunctions happened on Jan. 11 and Feb. 14; think back and perhaps you'll see a connection. This is on the Sabian symbol, "A man unmasked." (Find Blain Bovee's site here. And review Episode 64, Capricorn New Moon: We've Got You Covered! and Episode 68, A Pointy, Peaky, Aquarius New Moon for more info!)
.
16:26 – The Sun, at 15.21 Pisces, squares the Lunar Nodes on the Gemini/Sagittarius axis (March 5). We are at the mid-point between eclipse seasons! Think back to our last eclipses on Nov. 30 & Dec. 14 (Episode 58, Gemini Lunar Eclipse and the Amazing Eclipse Maven and Episode 60, Sagittarius Solar Eclipse and Coins in the Couch), because you may be able to make some connections between then and now. Head's up: The next eclipses will arrive May 26 and June 10. (Happy birthday, Big Sky Astrology!) April's eclipse report, "Followed by a Moonshadow," will help you get ready!
.
20:06 – Yay! This week's Moonwatch segment is brought to you by our non-imaginary sponsor: Tenth House Creative! You can also find them on IG: @tenthhousecreative
.
23:48 – **MOONWATCH ** This week brings a Last Quarter Moon (LQM) at 15.40 Sagittarius on March 5. This calls back to the New Moon in Aquarius a few weeks ago (Episode 68, A Pointy, Peaky, Aquarius New Moon) but it's also connected to a lunar phase family that began in Dec. 2018, with footprints in Sep. 2019 and June 2020 (the latter was an eclipse that you can hear more about in Episode 28, Eclipses and Nodes: Why be Mean when you can be True?). There are many features of this LQM that speak to reviewing and letting go whatever is preventing forward motion; this is especially relevant to relationships – is there an entrenched pattern here that needs shifting?
.
26:53 – Feel that movement? All planets are in direct motion, for about the next 6 weeks. Be cautious not to go too quickly, though!
.
29:27 – Thanks for listening, friends! If you'd like to support the show at no cost to you, please kindly give us a 5-star rating, subscribe or follow wherever you listen, and/or leave a happy review – here's how! This episode is made possible by Podathon donors BARBARA TURCOTT, BARBARA WALLS, and MARTINA PAPINCHAK! Thank you, Barbara, Barbara, & Martina for contributing to our Podathon! Remember, to gain access to the upcoming exclusive equinox episode, please pitch in $5 or more! (You'll get a year's worth of bonus episodes!) Thanks, podpals!